Welcome to the Franciscan Friars of the Atonement Website for Christian Unity

 
EVENTS IN PROGRAM
Conferences


 
LIBRARY
Reserach · Services


 
BULLETIN
Activities of the Centro


 
MEDIA SECTION
Video · Podcast


 
WEEK OF PRAYER
for Christian Unity


 
DIALOGUES
Interconfessional


 
PUBLICATIONS
Editorial Catalog

   Activities    |   Week of Prayer for Christian Unity 2023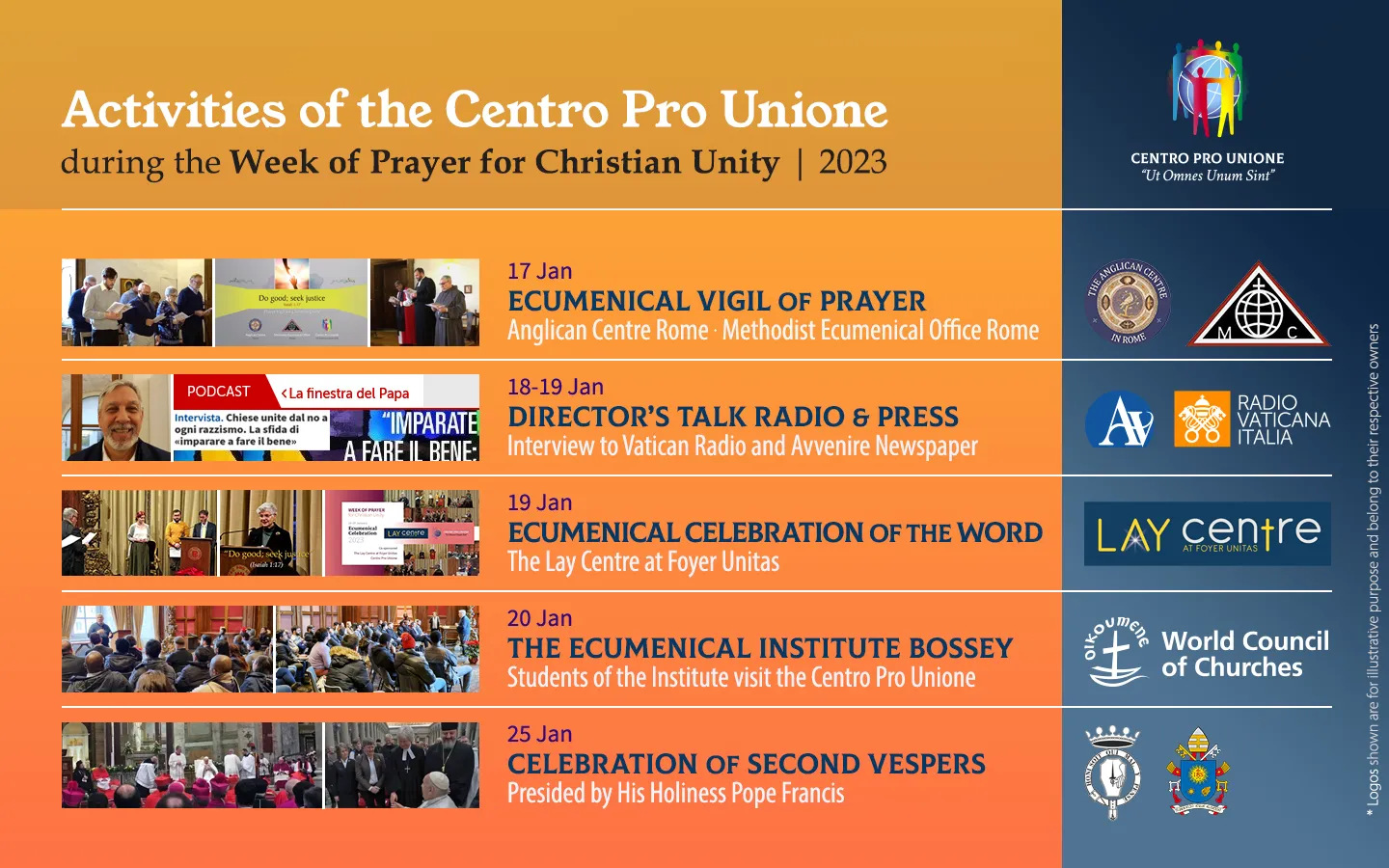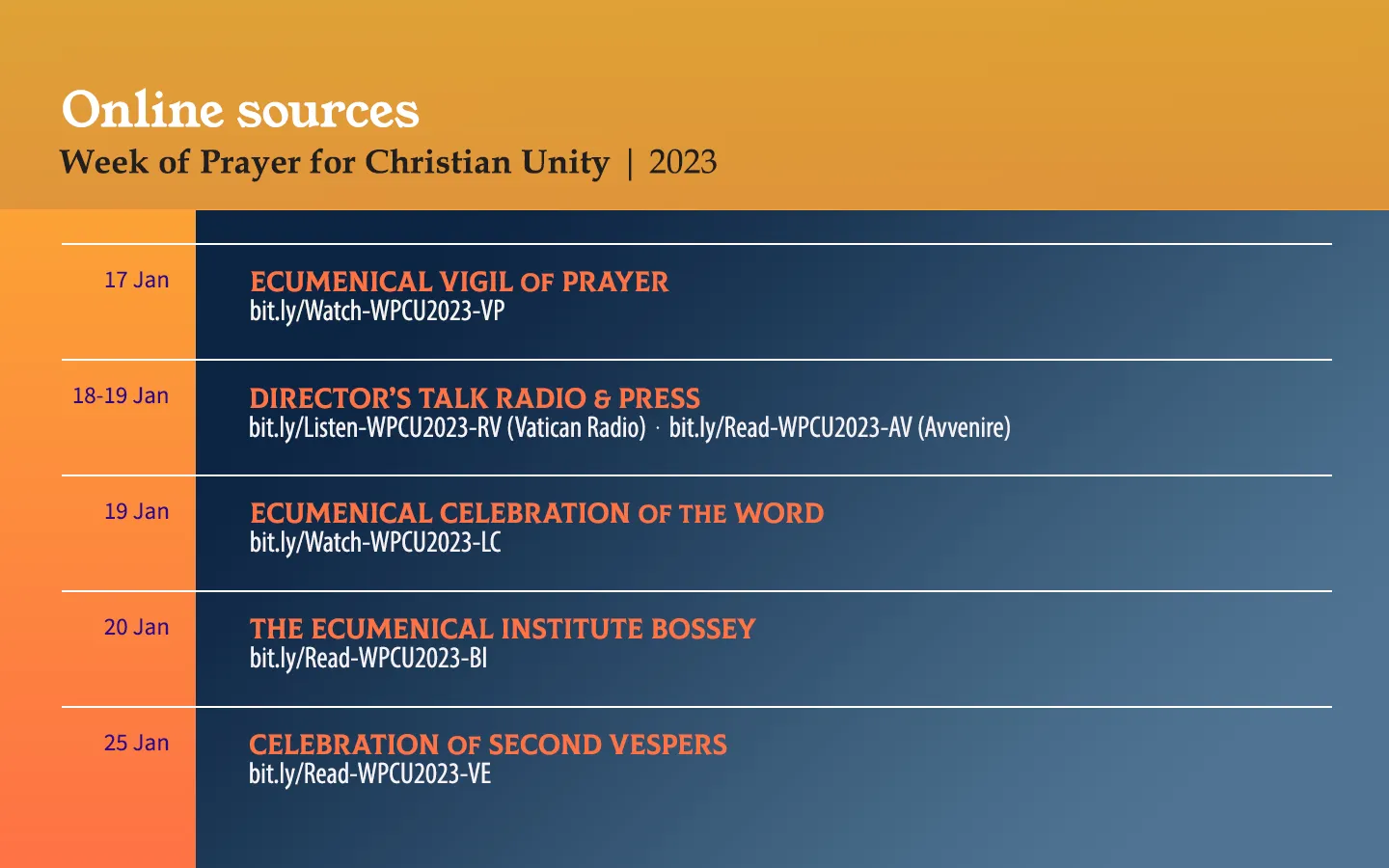 Online sources
🗓️  Jan 17 ― Ecumenical Vigil of Prayer
🗓️  Jan 18 ― Vatican Radio podcast
🗓️  Jan 19 ― Avvenire story
🗓️  Jan 19 ― Ecumenical Celebration of the Word
🗓️  Jan 20 ― Bossey Ecumenical Institute Visit
🗓️  Jan 25 ― Celebration of Second Vespers
   Ecumenical Celebrations   |   Week of Prayer for Christian Unity 2023
Organized by
the Anglican Centre in Rome, Methodist Ecumenical Office Rome
and Centro Pro Unione

Co-sponsored
The Lay Centre at Foyer Unitas
and Centro Pro Unione

   List of celebrations in Rome   |   Week of Prayer for Christian Unity 2023
Celebrazioni a Roma · 18—25 Gennaio / Celebrations in Rome · 18—25 January

SPUC-2023-Roma.pdf
ANNOUNCING NEW PUBLICATION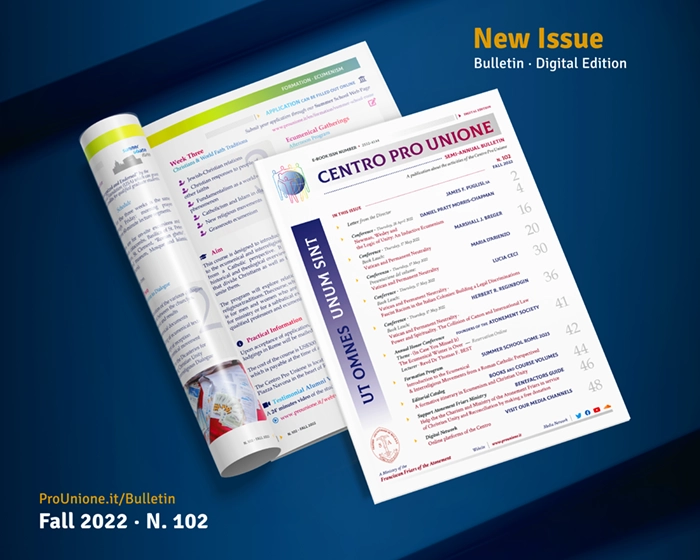 In this Issue
Letter from the Director — James F. Puglisi, SA
Newman, Wesley and the Logic of Unity: An Inductive Ecumenism — Daniel Pratt Morris-Chapman
Book Launch: Vatican and Permanent Neutrality — Marshall J. Breger
Presentazione del volume: Vatican and Permanent Neutrality — Maria d'Arienzo
Book Launch: Vatican and Permanent Neutrality · Fascist Racism in the Italian Colonies: Building a Legal Discrimination — Lucia Ceci
Book Launch: Vatican and Permanent Neutrality · Power and Spirituality. The Collision of Canon and International Law — Herbert R. Reginbogin
Save the Date · XXV Annual Conference in Honor of the Servant of God Fr. Paul Wattson and Mother Lurana White — Founders of the Society of the Atonement
Announcing Summer School Rome 2023 · Ecumenical & Interreligious Movements from a Catholic Perspective
The Editorial Catalog · Books and Course Volumes — A formative itinerary in Ecumenism and Christian Unity proposed by the Centro Pro Unione
Support the Franciscan Friars of the Atonement Ministries — A Benefactors Guide
Digital Network · Centro's channels on the Web
#MADforEcumenism / 3
First Session / M.A.D. for Ecumenism · 2022-2023 / Phase 3
SECOND VATICAN COUNCIL ANNIVERSARY
Opening 60th Anniversary — The Centro Pro Unione which hosted weekly meetings between Council Fathers, Observers and Ecumenical Guests during the Council joyfully remembers the Council's anniversary
11 October 1962 – 2022 — Fr. James Puglisi, sa, retraces some phases of the ecumenical meetings held in the spaces that are now the headquarters of the Centro Pro Unione and the legacy to be valued of the Second Vatican Council in our days. #SecondVaticanCouncil #UtUnumSint
Video
from the Ecumenical Formation Project —
CONOSCIAMO I FRATELLI
Video
from the Ecumenical Formation Project —
CONOSCIAMO I FRATELLI
Conferences / Symposium / Study Day
Semi-Annual Bulletin
Latest Publication
In this Issue
Letter from the Director — James F. Puglisi, SA
Newman, Wesley and the Logic of Unity: An Inductive Ecumenism — Daniel Pratt Morris-Chapman
Book Launch: Vatican and Permanent Neutrality — Marshall J. Breger
Presentazione del volume: Vatican and Permanent Neutrality — Maria d'Arienzo
Book Launch: Vatican and Permanent Neutrality · Fascist Racism in the Italian Colonies: Building a Legal Discrimination — Lucia Ceci
Book Launch: Vatican and Permanent Neutrality · Power and Spirituality. The Collision of Canon and International Law — Herbert R. Reginbogin
Save the Date · XXV Annual Conference in Honor of the Servant of God Fr. Paul Wattson and Mother Lurana White — Founders of the Society of the Atonement
Announcing Summer School Rome 2023 · Ecumenical & Interreligious Movements from a Catholic Perspective
The Editorial Catalog · Books and Course Volumes — A formative itinerary in Ecumenism and Christian Unity proposed by the Centro Pro Unione
Support the Franciscan Friars of the Atonement Ministries — A Benefactors Guide
Sostieni i Ministeri dei Frati Francescani dell'Atonement — Una guida per i benefattori
Digital Network · Centro's channels on the Web
Bulletin Archives
(2022-1969)
Published Issues
Digital and Print Editions
Publications
Editorial Initiatives
Catalog of Books and Volumes
Aims
This course is designed to introduce participants to the ecumenical and interreligious movements from a Catholic perspective.
It will offer a historical and theological overview of the issues that divide Christians as well as the bonds that unite them.
The program will explore relations with other religious traditions.
The course, which is in English, is for men and women who are in preparation for ministry or religious life, who are in the mission field, who are ecumenical officers or members of ecumenical commissions, or who are looking for a sabbatical experience led by qualified professors and ecumenists.
Summer School proposed dates
June 26 – July 14, 2023
Interconfessional Theological Dialogues
List of official agreed statements
Official Documents / Agreed statement
Denominations for confessional families churches and councils are searchable with associate and sorting capabilities of the available bilateral documents of dialogues
Week of Prayer for Christian Unity
2023
Printed material available
Prayer Guide,
Poster and Prayer Card
Dear Faithful,
as of December 19, orders for the Week of Prayer for Christian Unity aids will be suspended at the Centro Pro Unione and will resume on January 9, 2023.
During that period it is recommended to purchase the materials at Paoline Multimedia International – Via del Mascherino 94 (Rome) – tel. 06 687 2354
For all orders that will be placed at the Centro Pro Unione from January 10, 2023 arrival in time for the beginning of the Week of Prayer is not guaranteed.
Material for the Week of Prayer 2023 — Daily Scripture-Prayer Guide, Poster and Prayer Card — is available now for download in digital format and ordering printed copy.
· Download digital material
Pages for latest editions
Praying for Unity
Organized by · The Anglican Centre in Rome, Methodist Ecumenical Office Rome and Centro Pro Unione Celebrated at the St. Augustine of Canterbury Chapel (ACR)
A Vigil of Prayer for Christian Unity
Access our library reading rooms
The library of the Centro Pro Unione is open and our reading rooms are available.
Atonement Society Ministries
Charism
Our ministry for Christian Unity
The Centro Pro Unione is born from the ecumenical charism of the Franciscan Friars of the Atonement, a branch of the Franciscan family founded by the Servant of God Fr. Paul Wattson and Mother Lurana White at the end of the XIX century.
Its principle mission is to provide a place for research, meetings and encounters, formation in theological, social and spiritual ecumenism as well as promoting a sensitivity to the ecumenical movement.
Learn more by visiting the websites
organized by the Società Biblica in Italia (SBI) presentend at the Centro Pro Unione in Rome December 2021
Live Streaming  | Presentation Nuovo Testamento GRECO — ITALIANO · Società Biblica in Italia (SBI)

Webinars | Streaming videos

Speaker
Rabbi Jack BEMPORAD · Director The Center for Interreligious Understanding